THE HISTORY OF EVERYTHING…KISSY COUSINS MONSTER BABIES & MORPHING ELVIS
REVIEWS
We have to state from the beginning that 'The History of Everything…' is among the most unique comedies we've had the chance to watch at this festival since day one. Filmed and produced in a 'short' period of more than two decades, this brilliant comedy feature is exactly like a good wine: it gets better as time goes by.
 

The film is divided in two parts that are very important for the storyline – the first one dates back to the beginning of the 90's, (more precisely 1993) a time when the standards in art were different and when everything looked like an edgy music video for the new wave of teenagers. The second part of it is represented by 'the present day' time, where Trump is already an important key figure, and subjects like Obamacare or other news bits appear as everyday subjects.  For us, the first part of this feature film is our favorite one because it brings back that vintage yet not that old feeling we grew up with, reason why we literally can see our childhood there. For any 25+ years old viewer, this movie will be like a passage to a brilliant childhood, where monsters were something normal in high-school movies, where loud screamings were covering the fake laughters of the so-called live audiences, where the haircuts were as bad as the pop music (with some exceptions, of course), and where the vintage presence made you feel the dusty smell of a vacuum cleaner on a Saturday morning.
The two main characters, Peter Grover (played by Steve Kearney), and John Potters (played by David Belafonte) are the ultimate typological characters for that generation. Whilst going through Wayne Keeley's film for the second time, we really felt the true vibe of the 90's in these two characters, all the more so since their first encounter looked like when Beavis met Butthead. The comedic effect gets more powerful with every scene.
It's not hard to observe the real subtle side of this movie, which is the general mocking of everything and everyone. In the first part, the old one, Peter and John are making fun of the industry, the actors or the casting habits whereas in the second part they come to focus their attention on mundane subjects. Overall, this film superbly combines the old and new vibes, delivering a set of emotions any generation can relate with.  And yes, it is true what the director stated in the plot overview: "The next Rocky Horror", and that's because when  watching it we felt the same energy and sense of uniqueness we have experienced years ago when 'The Rocky Horror Picture Show' was everywhere. 'The History of Everything' is nevertheless a timeless (soon to be) classic!
________________________________________________________________________________
Rome Prisma Indepebdent Awards
Kissy Cousins Monster Babies and Morphing Elvis
Kissy Cousins Monster Babies and Morphing Elvis
Written by Wayne Keeley | Review by Prarthana Mitra
Kissy Cousins Monster Babies and Morphing Elvis, sounds quite a mouthful at first, but as a film that engages the fullest extent of your imagination (and beyond), the title makes perfect sense. It is the name of the film within the film which stands to become a cult classic of our generation.Wayne Keeley's 30-minute short film, shot over 25 years, is a decoupage of the choicest icons, scenes and motifs from Hollywood's golden era, warped into a self-reflexive tale of how a couple of Hollywood producers save their sinking careers. Not without getting themselves into a creative soup first, of course.
As we follow two coked-up producers try their hand at screenwriting, seek inspiration in everything—from Jurassic Park and Elvis Presley to popular American culture and proverbs—we are introduced to the irony of the entire exercise. We also can't help but marvel at the brilliant use of the past and present of cinematic history to depict an all-too-known future. The heady concoction serves as a kitschy testament to the evolution of American cinema, and for Keeley, who began filming it in 1992, this stemmed from the extended temporality of the film. Incorporating a wide array of cinematic techniques and technology (that became available to him by and by), the stylistic progression depicted in the movie curiously generates a currency for relevance. Passing mentions of Donald Trump and a cameo from Hillary Clinton also helps.
The colour tones of "vintage" cinema blends with the muted pastel shades we have come to recognise in Hollywood films today. But what is more universal, is the struggle and intrigue that comes with the dream of making it big in Hollywood. Behind all the madness, mindlessness and frenzy is a surrealist quest for creativity. In a Mulholland Drive-esque twist, we learn that the two protagonists are only cogs in the mechanised reproduction of art, that modern filmmaking has become. They are trapped in a system where their ideas, which aren't exactly original ideas to begin in, are being harvested by an unknown sinister entity.
David Belafonte and Steve Kearney perform an absurdist drama, voicing and gesticulating Keeley's visions to cinematic reality. The film harks back to famous characters and tropes, including Charlie Chaplin, Sharon Stone and Nosferatu, all of which make for a highly enjoyable watch (to the film school geek) and a rib-tickling political satire of the industry (to the intuitive viewer). The seamless edits elevates the viewing experience and cerebral impact of the film. At times, it even reminded me of the masterful video collages of Ukrainian artist Miknu.
Keeley, an Emmy-winning producer himself, is also a seasoned film and documentary maker, and has made numerous hit music videos. He brings his familiarity with the medium and the sector to the table with Kissy Cousins Monster Babies. He hopes to deliver the next Rocky Horror Picture Show, and to be honest, he has hit the bull's eye. This 25-year-old comedy does an excellent job in refreshing audience memory with pastiche woven skillfully into the fabric of a fantastical narrative. But as we all know, there's a fine line between the real, the unreal and the surreal.
Prarthana is presently in between odd jobs and obtaining her master's degree in literature. She loves modern poetry and meditative cinema. Based out of Calcutta, Prarthana observes people, football, films and enjoys writing about all three. Of late, she relates to Frank Ocean's music. Her writing experience consists of writing for various sites such as Try Cinema, The Indian Economist, Doing The Rondo, Saintbrush and various academic journals.
________________________________________________________________________________________________________________________________________________________________
Pinnacle Film Awards for Narrative Films
"This movie had me rolling in laughter. Kissy Cousins is a great comedy with a high production value. A++" — Festival Director Pinnacle Film Awards
________________________________________________________________________________
Straight-Jacket Guerrilla Film Festival
"Biblical Fucking Amazing!" — Festival Director, Straight-Jacket Guerrilla Film Festival
________________________________________________________________________________
Direct Online Monthly Film Festival
"Watch the Awesome Film "Kissy Cousins Monster Babies…" — DOMFF
________________________________________________________________________________
Mindfield Film Festival
"…thank you for submitting excellent work! I wish the best for your film in the festival circuit. I had some great laughs watching it. You guys are awesome." — Festival Director
_______________________________________________________________________________
Fic Autor (Author's International Film Festival)
"… the part of the executives is just amazing, great criticism and performances. Nice style and very good writing. "
                                                                                                                                                  — Jury Comments
________________________________________________________________________________
Connecticut FilmFest52 
"The Indie film community is experiencing a Time Warp! A NEW Cult Classic has arrived. So Brad, step to the right and make room for "The History of Everything: Kissy Cousin, Monster Babies and Morphing Elvis". A little rocky rolling off the lips… spark one up, knock back a few and zip up your straight jacket… then lose yourself in the bizzare, zany world and demented imaginations of two nutty producers, their monster babies, kissy cousins and a morphing elvis…."                                              –Festival Director
_______________________________________________________________________________
 Blastoff Film Festival
"Really clever.  In places hysterical…"
                                                                                  — Festival Director
_______________________________________________________________________________
KISSY COUSINS MONSTER BABIES (Director's Cut)
The Mediterranean Film Festival
MEDFF 
When I saw Kissy Cousin Monster Babies together with my colleagues we said: this short film will not please everyone. At a first visual impact, it will be possible to see dialogues and pieces of film that seem completely disconnected from each other. A sort of historical puzzle that traces the last 25 years of our century.
A more attentive and profound vision of the film, more critical and conscious, will however be very different from what was said previously. In fact, Kissy Cousins ​​Monster Babies by Wayne Keeley is not a film that follows the normal Hollywood canons, but is a project that involves a story, a quarter of a century, seen and experienced with the eyes and ideas of the director and producer.
Watching a movie from the 90s on the same time frame as the short film will trigger the ire of younger viewers while it will be a beautiful time travel for the more experienced.
I loved the different identities of this film that created a temporal continuum that I owe so much. We live in an era where the best camera is the director of the century, while Wayne Keeley has shown that ideas in cinema are equal to the soul that comes with the film.
My vote comes from an artistic media between the disinterested and the cultured spectator.
The only thing that I did not appreciate was the final part, so to speak, the scenes shot in the current era seem too amateur. I would have preferred the 90s style shots. De gustibus …
 Danny Caprio
Not another Blog on the Cinema …
I am the Director of MEDFF, one of the most followed film festivals in Europe, which aims to promote and interact with artists from all over the world. The competition between the new entries of the Cinema and the so-called "veterans" has had a significant impact on the results obtained. Thanks to the MEDFF and the judges who collaborate with me every day, the new levers of Cinema have grown and been discovered. Cinema has no age, anyone can be part of it and anyone can become an essential part. Everyone has their own audience waiting for it. All we need to do is to suggest a path to follow, with zeal and perseverance, to express ourselves and make ourselves known. This is the concept that I would like to transfer via this blog.
_________________________________________________________________

Filled to the brim with retro nostalgia, Kissy Cousins is a 90s smack in the face. From the Star Wars opening to the costumes and set decor it's beautifully constructed yet completely contained.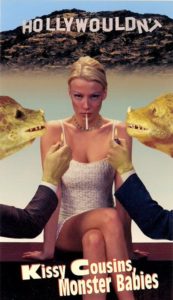 Kissy Cousins only just counts as a short, with its 40 minute running time its more of a medium, and this at times causes a drop in interest. It could potentially benefit from cutting the length by ten minutes or so. That said, the dialogue is excellent. Written to fit in with the aesthetic of the piece and embrace itself for what it is, rather than pretend to be something it isn't.
The cinematography and production design are flawless. The film is almost completely contained in one room yet the designers have done an outstanding job creating the perfect 90's set. The same can be said for costume and make-up.
The story itself may not break any moulds, but it is so well presented and paced (aside from the odd lull) that it doesn't matter. It's there for pure entertainment and that is exactly what it provides. AS I stated, it embraces what it sets out to be and that fun and self awareness shines through to provide the audience with something that is pure popcorn endulgence.
A well made, cleverly constructed and designed and overall utterly entertaining piece of film that will make anyone born in the late 80s swoon with memories.
_______________________________________________________________________________
Short Stop International Film Festival
Wayne Keeley's short has that vintage crazy experimental vibe that can be used in film and even then it will remain a fiction in all sense. The movie packs everything from cult classic references, to a great selection of yesterday news. Although the production went on for over twenty-five years, the short feels extremely fresh and has a lot of strong points.
​'Kissy Cousins Monster Babies' is one mockumentary that every fan of this genre should definitely watch. The story floats into a sea of pop references starting from the 80's and coming to Donald Trump's "Making America great again".  Jon and Peter are two struggling Hollywood producers that go on a dry streak. They desperately need to create something new in order to come back in the spotlight. Their solution? To combine parts of old movies and stick them together with the glue of their imagination, and to create the new hot-shot blockbuster. The result? Well, it may be way more than both of them thought in the first place. Before watching it we were interested in knowing what the title was about, and obviously, it was in vain to assume the real meaning of it. Then, as we started watching this film, it became clear and altogether funny: the title refers to an old saying that translates, in a very blunt way, that incest is the thing that creates monsters. We're sure it is a reference to some movies from the 90's or even early 2000's because we remember watching some back then dealing with this particular matter.
​Even though 'Kissy Cousins Monster Babies' is a satirical short film, the narrative is a serious matter for Keeley, who did an amazing job, making it stand out. For us, the storyline is the best thing about it for the reason that it deals with a vast period of time while the story cuts are impeccably used. The way Keeley creates subplot after subplot, and then suddenly cuts it to seem like a minor event under the magnifying glass of another character that is under the magnifying glass of another event, is the emotional twister that made us get really into it.
This unique way the story builds from another story is the reason we think Wayne Keeley is not just a director, but a storyteller who knows how to mesmerize the audience with great ease from the very first shots.
Review written by Vlad A.G
_______________________________________________________________________________
We started watching 'Kissy Cousins Monster Babies and Morphing Elvis' and we were instantly sent back to the '90s. There aren't many movies nowadays that can send the same classic and pure vintage vibe we had whilst watching 'Kissy Cousins'. As the beginning of the short rolls, you can see the birth of grunge somewhere in the back. The rap music makes sense again, the poetry in the verse in dense, the clothing is ridiculous again, and the VCR effect is all over the place. Basically, the whole 90's experience blooms right after the first thirty seconds of it.
​The two main characters played by David Belafonte and Stephen Kearney are doing justice to this short as they both are hilariously funny and oddly crazy… at the same time. There is nothing you can anticipate relating these two as they make all the ride fun. Their unique way of working on a new movie that could possibly save their career is amusing, yet true, as we cannot imagine working on a movie without any fun involved in the process.
​You'll notice that the vintage shots look genuine, but that's because the movie was initially filmed back in the '90s. We weren't joking at the beginning when we talked about the vintage vibe, because this is what Wayne Keeley's movie wants to send to the viewer. Though a great part of 'Kissy Cousins' was filmed in the '90s, the references are still truly amazing in today's world. It's like opening a box of toys you put in the attic when you were a kid, and now, as an adult discovering the box all of those memories are brought back. 'Kissy Cousins Monster Babies and Morphing Elvis' is the kind of toy you find after a long period of time of boring and repetitive life events. It is the ideal thing to appear in your life to refresh your perception buds.
___________________________________________________________________________________________
Filmstrip International Film Festival
Kissy Cousins Monster Babies
What's the best way to get out of serious debt? Make a $200 million-grossing movie by recycling and randomly mixing together parts of various 'crap' movies – because crap always sells and crap always catches the public's eye. This is exactly what two bigshot Hollywood producers trying to save their careers are thinking – they either need to do creative work or risk a moneyless existence, the thought of which they find absolutely terrifying. Thus, they need to come up with a movie idea by the end of the day. However, despite their long-lasting Hollywood careers, neither of them has any scriptwriting experience – actually, neither has ever even read a screenplay. They decide to first start by applying their marketing prowess and come up with the holy grail of filmmaking: a catchy title. They initially struggle – creativity is clearly not their strong suit – but when one of them incidentally mentions some near-romantic experiences with his cousin at some point during his youth, the two are left with a catchy working title: 'Kissy Cousins Monster Babies'.
 The film starts off by piling up 90s pop culture references, as well as social and political contexts, some more subtle than others. Star Wars and Jurassic Park get the nod, so does Arnie, the Clintons and the Bushes are unavoidably mentioned before everything reverts to a more film-based environment. The humor is very in-your-face, at times extremely unfunny, but it can be forgiven if we consider what it's trying to do and what the object of parody is. The depth of material poked fun at in the first 10 minutes alone is nothing short of remarkable, and the film continued to surprise us with the sheer range of jokes and gags. Our favorite thing about it is that it holds no punches, and pretty much goes on to insult every Hollywood stereotype that you can think of.
 As outrageous as its initial 10 to 15 minutes are, 'Kissy Cousins Monster Babies' takes yet another leap of faith once the two producers settle on the title, and jumps to the present day, placing all the references into a more up-to-date context. Despite the big reveal, which we won't spoil, the latter part is less inspired, simply because it feels too much like every YouTube parody of current political and social affairs. The overacted bits of acting from the two producers feel so on point that it hurts (in a good way), and the shooting style and cinematography seamlessly combine into what almost feels like an omnipresent character – the 90s in person.
 On a deeper level, it begs the question of whether or not politics and the entertainment industry have somehow merged (especially considering who the president of the US is), and whether or not anything has changed in a quarter of a century, save for a few surface things. Whether or not 'Kissy Cousins Monster Babies' is a potent philosophical musing on the transient nature of big business, or merely a semi-funny collection of nostalgic laughs, depends, as always, on who is watching.
_____________________________________________________________________________________________
Kissy Cousins, Monster Babies: short film review
Kissy Cousins, Monster Babies
★★★★
Directed by: Wayne Keeley
Written by: Wayne Keeley, Stephanie C.Lyons-Keeley, David Belafonte and Stephen Kearney
Starring: Steve Kearney, David Belafonte, Jack Plotnick, Mike Memphis, Charlie Dobson, Pat Cooper, Jeffrey Lyons, Michael Medved, Dr. Joyce Brothers, Nipsey Russel, Professor Irwin Corey, Mario Todisco, Joseph Keeley III.
Kissy Cousins, Monster Babies is written and directed by Wayne Keeley in 1992.
Two Hollywood Producers try to save their dying careers by creating a blockbuster out of old movies and their warped imaginations. What they don't know is that they are being mined for their creative ideas.
If it's true that laughter is the best medicine, so you have to enjoy this wonderful short full of intense scene of very fine humor.
At first you'll be surprised by the vintage touch of the images, but soon you'll discover that actually it's the real footage recorded 25 years ago. And that's when the curiosity gets in.
The fascinating characters are playing so convincing that you actually think they will soon release a bestseller. At some point when you notice that the action takes place in the same setting, their office, you start wondering why is that happening. Also, the office assistant's patience and indulgence starts to be suspicious.
The film was in production for 25 years and shot in seven states including Wash D.C. What began in the 1990s as a quick, down-and-dirty idea for a direct-to-video film, later "morphed" (to use the vintage post-production lexicon) into a more than a quarter-century journey down to the golden fields of creativity and ever-changing technology.
Kissy Cousins, Monster Babies is a social and political satire that's still relevant today as it was when the first footage was shot back in 1992 and had the might and staying power to withstand decades of dust and reinvention.
The project is presently being considered for a Guinness World's Record for longest production time, so you definitely have to enjoy the ride in time and the chance to discover the oldies but goldies.